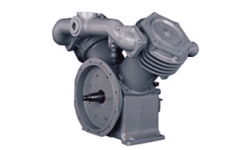 Model ATLE6
The Champion ATLE6 is a single stage, two cylinder, pressure lubricated compressor that is equipped with an SAE#3 bell housing flange for direct engine mounting and remote site operation. Typical remote compressor applications include bulk trailers, oil rigs, refineries, and ore mines.
Wherever there's a demand for a low pressure engine drive compressor, the ATLE6 is the compressor for the job. Because it is direct coupled to the engine, there is no need to worry about belts slipping or wearing out. When correctly connected to the engine, all rotating components are totally enclosed and protected from the environment.
Models AVLEKCAA, AVLAVCAA, & AVLANCAA
You can count on Champion compressors to be there when you need them. Every Champion compressor and vacuum pump has been designed to provide optimum performance in a wide variety of applications. The heavy cast iron construction of A-Series units add to the reliability and provides extended service life. Each unit is rigorously factory tested to a high quality standard prior to shipment. The testing of each unit ensures that the highest quality product is being shipped.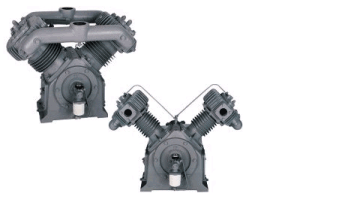 Models APL & APO
The Champion APL & APO models are single-stage, two-cylinder, pressure lubricated compressors equipped with a two-groove, 17-inch sheave, for belt-driven applications.
These models are pressure lubricated to ensure long service life and trouble-free operation. They also have an integrated cooling fan built into the cast iron sheave for maximum cooling.
Champion APL & APO compressors and vacuum pumps utilize a unique valve design. This superior design allows 100% exposure to the air flow, thus maximizing air flow through the valve, improving overall unit efficiency.