Lubricated Reciprocating Compressors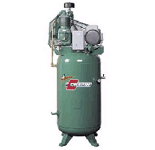 The Champion Advantage Series is the newest thinking in delivering fully equipped reciprocating compressors from the recognized leader in compressed air equipment.
These reciprocating compressors get to you with pedal-to-the-metal speed – they're on their way, shipped direct, within 24 hours of your order. It's one of the fastest turn around times in the industry.
Up to six standard, pre-installed accessories.
Dual Control
Vibration Isolators
Magnetic Starter
Auto Tank Drain
Low Oil Monitor
Air-Cooled Aftercooler
Confidence
Each reciprocating compressor features a five-year, pro-rated use warranty on all pumps. 5-year warranty on electric motors and receivers.
Economy
Fully-equipped reciprocating compressor packages mean lower purchase prices and installation costs.
Variety
Fourteen different Advantage Series packages give you several configurations to choose from.
Service
Your Champion Distributor is ready to assist you with product support, advice and maintenance.